Why Fast Growing SMEs Use PosifyRetail?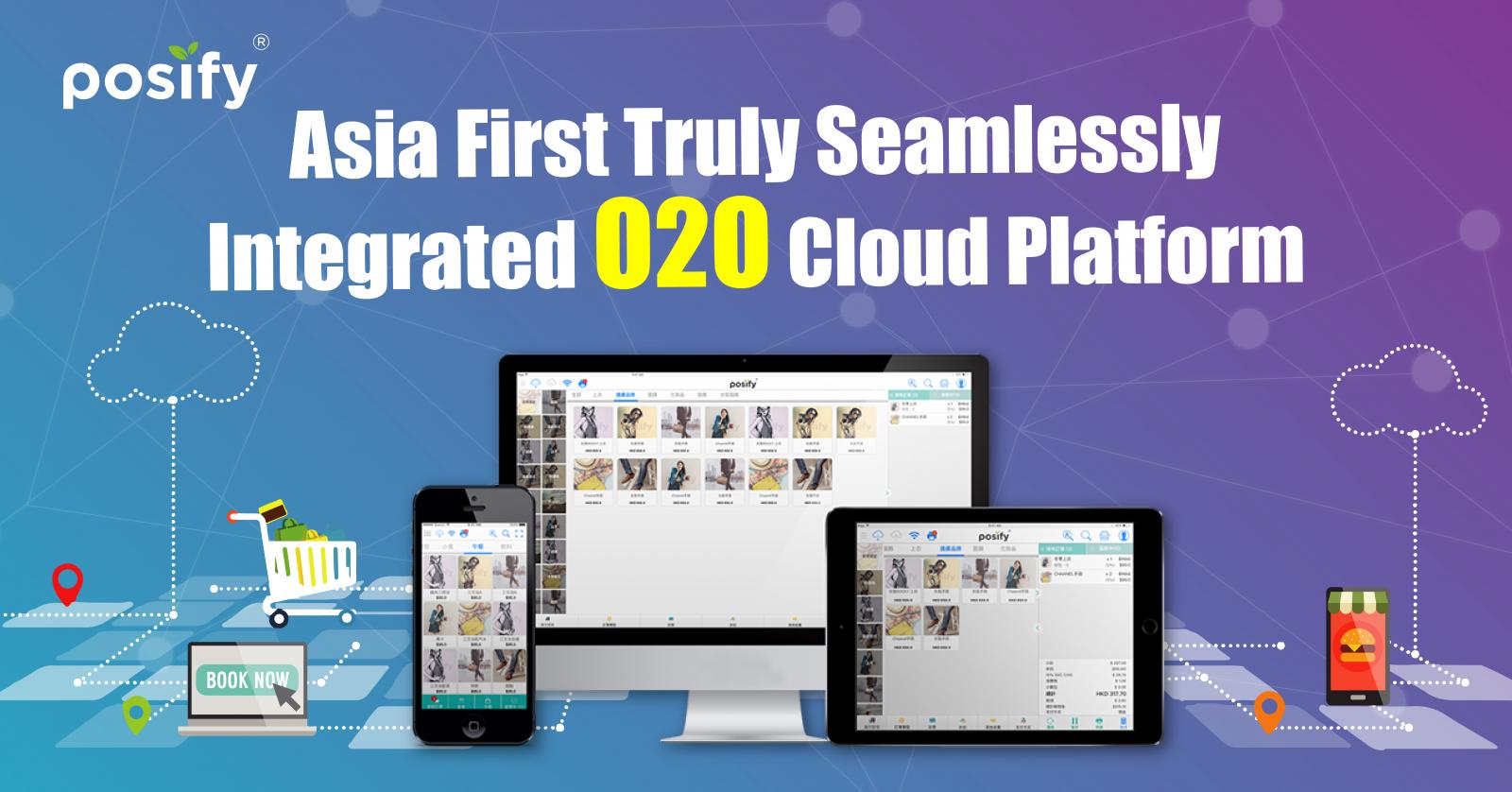 Online-to Offline (O2O) commerce is a new business model which is the coordination between the network world and the real world. It is an effective strategy to drive more purchases from online stores to physical stores or vice versa. With the growing trend of the e-business technology, retailers can no longer rely on the single channel but the combination of both online and offline, this evolves to O2O commerce now.
Most of the enterprises agree that O2O is a prevailing marketing trend, but it is difficult for many SMEs to create their own O2O platform like the other leading enterprises do due to their limited technology level and capital, they cannot solve their retailing problems fundamentally, and it hinders the sustainable development of a company.
The problems that fast growing SMEs may face include:
Lack of Talent and Skills
Nowadays, digital technology is reshaping the global business landscape. SMEs are eager to digitalize and transform, however, they are lack of know-how.
Critical Data and Information Between Online and Offline are Out of Sync
It is definitely a big trouble when the stock inventory between shops, order promotion and member data are unable to synchronize because the merchants can only handle the data manually, which will lower the effectiveness and have a higher risk that errors occur. What's more, because of the inconsistence between online and offline, this results in unsatisfactory shopping experience to customers, which will damage customer loyalty.
Limited Function of Customer Management and Data Analysis System
The rationale behind repeat sales generation is how retailers attract new customers and maintain existing customer relationships. It is all related to full functional CRM. The fast-growing SMEs, however, could not afford the high cost of a comprehensive CRM system. As a result, they can solely reply on traditional and ineffective ways to attract customers.
What is PosifyRetail?
PosifyRetail is the first truly seamlessly integrated New Retail O2O cloud platform in Asia which is designed to help today's enterprises especially the fasting growing SME retailers to better acquire the benefits of O2O commerce. By providing the most effective and economic way of accomplishing the end-to-end retail operations, Posify aims to empower SME retailers to drive efficiency, productivity and profitability.
What O2O Benefits that PosifyRetail can Offer to SMEs?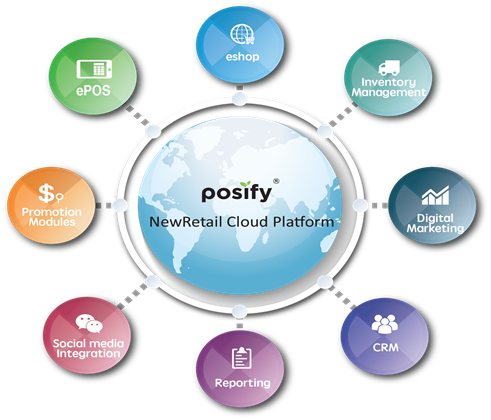 Source: Designed by Posify
Provides Use-Friendly Control Panel & Professional Consultation Services
PosifyRetail provides all SMEs need for digitalizing their traditional businesses – a one-stop and robust SaaS platform, which includes holistic end-to-end capabilities from the front-end consumer experience to back-end operations management and analytics with 8 functional modules.
With the user-friendly control panel provided by PosifyRetail, SMEs can easily digitalize their businesses and handle everything online and offline. Furthermore, considering of limited resources among SMEs, PosifyRetail leverages the best practice and professionals to provide the guideline, 1-to-1 consultation and configuration services to SMEs, which allows them to shorten the time and stay away from large capital expenditure in dealing with the technical problems, this favours SMEs to focus on developing their businesses.
Source: Designed by Posify
Synchronizes All Offline & Online Data in Real Time
PosifyRetail helps SMEs to automatically synchronize all the data from both online and physical stores in real time with one system in order to improve the operation efficiency. Thus, plenty of time and labour cost can be saved when avoid doing data integration manually. Moreover, merchants are able to provide click & collect service to their online customers according to the real-time inventory level, customers can pick up their products at physical stores so that they will not miss the delivery or pay extra delivery costs.
The synchronized CRM system also allows staffs in physical stores to easily read the related information such as reward points of customers who registered as member or bought in online shop so as to create a convenient shopping experience to customers and encourage O2O cross-selling.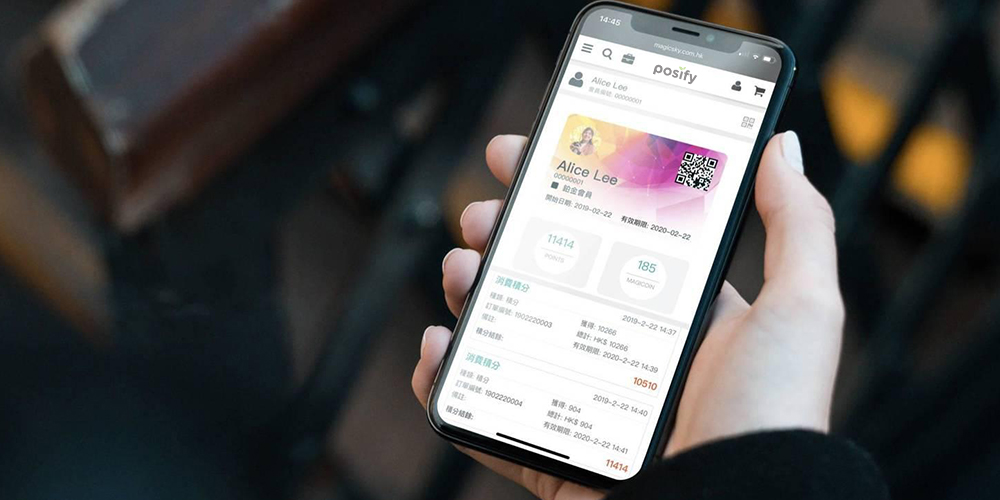 Source: Designed by Posify
Includes Built-in Full Functional CRM
PosifyRetail formulates 3R strategy which stands for Recruit, Retain and Reward that help SMEs to manage the member accounts and set up different promotions in one panel. The built-in CRM function provides diversified member promotion plans, such as welcome gift, birthday voucher, or create other multi-tire membership scheme. Retailers can also provide different offers and discounts according to different customer groups.
In spite of the promotion schemes, retailers can set up their Referral Marketing Program. Each of the members could receive an auto-created referral link, and the referee can obtain credits once the new members register successfully via the referral link or QR code. This Program boosts up the referral intention of the existing members and encourage them to invite more new members. As a result, SMEs can also benefit from expanding a large customer base at low cost.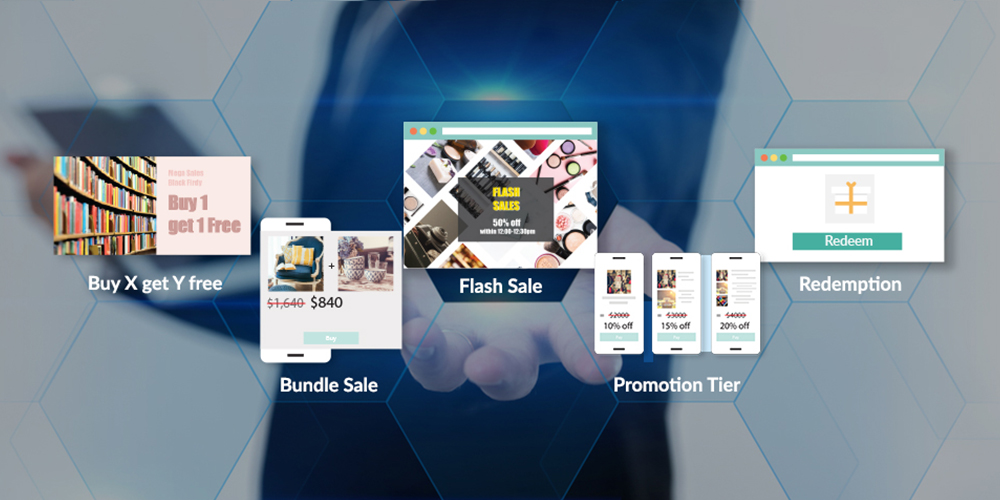 Source: Designed by Posify
Supports the Most Intuitive and Powerful Promotion Module
In the market, most of the retail systems only support single promotion settings which are not effective enough for the merchants to launch their promotion plans, thus, PosifyRetail R&D team identifies the pain points and achieve a breakthrough in calculating multi-element offers, this enables retailers to execute diversified promotion scheme to effectively target their audiences.
The comprehensive promotion rule setting is based on 6 promotion types with more than 100 combinations, for example, buy one get one free together with bundle sale, flash sale, redemption and add-on items, etc. Besides, the retailers can launch new promotions both online and offline simultaneously, the promotion can be set to provide to a particular group so as to support different marketing needs.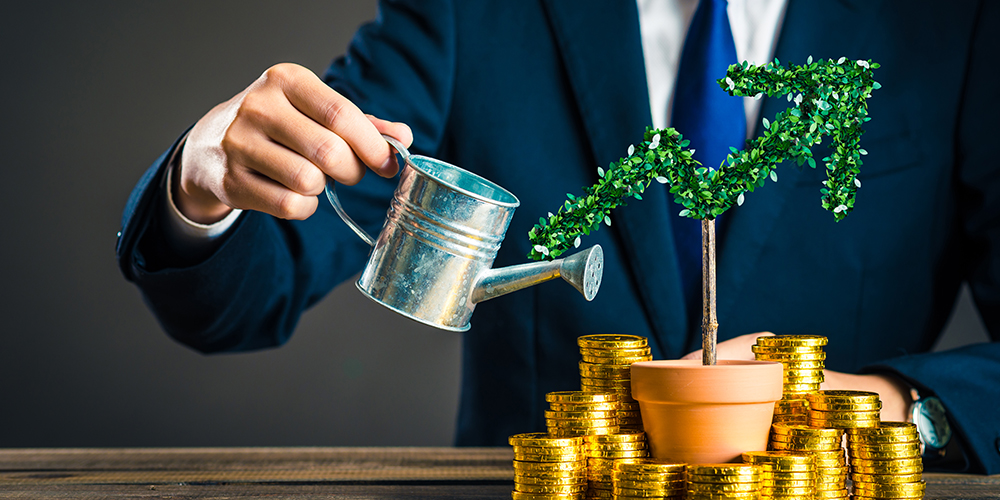 Source: Designed by Posify
Creates a Highly Scalable Platform for Supporting Rapid Growth
Many SMEs start their businesses from a pure online, pure physical or an O2O store, technical and managerial problems emerge afterwards when they develop rapidly into multi-outlets, cross-industries or even multi-national business. Due to the limitation of the system they have been using, SMEs tend to look for new system from time to time. Searching and operating new system usually require a lot of capital and human resources, this may impose a heavy burden to SMEs. Nevertheless, PosifyRetail can help them to seamlessly transform to different development stages no matter consignments, dealers, distributors, wholesalers and chain stores.
For cross-industries businesses such as "food + retail" or "retail + service", PosifyRetail enables the parent companies to achieve synergy by sharing the purchase information between their brand shops from different industries, thus, the consumers can also transfer and use their reward points among all the shops under one parent company. This stimulates their purchase intention and reaches win-win situation.
For multi-national businesses which have many physical stores worldwide to serve international customers, PosifyRetail supports the function of multi-currency and price by location so that the parent company can easily consolidate the data from different countries even with different currencies.

Besides, PosifyRetail is beyond a pure O2O solution to provide ERP-likely functions. The value-added HRM module is a great example. It allows enterprises to easily manage their staffs and optimize resource allocation such as time card, rostering, salary & commission, travel & expense in the simplest way. Therefore, the increase of operation efficiency, reduction of the time and cost from human resources could accelerate the business development.
Enjoy the Robust Features at the Cost Just as 1 Cup of Coffee per Day

It could cost a global retailer more than 10 million dollars for developing its own retail platform, but in order to support more SMEs to grow their businesses with the fully utilization of the new digital opportunities from O2O at an affordable cost, PosifyRetail is designed to be a cost-effective and all-round retail system, providing everything from online to offline. Now SMEs can enjoy these robust features at the cost just as 1 cup of coffee per day. To explore more about PosifyRetail, please click https://bit.ly/2lVLs9d
Disclaimer
The information contained in this blog is for general information purposes only. We are not responsible for any consequences caused.